I have a quick question that I can't get answered by anyone, anywhere; not even with Mutual of Omaha itself. I think it is a simple question that should be able to be answered but so far, no one has been able to explain it to me. Maybe I'm not explaining myself clearly enough. I hate to give out private information publicly but without a little bit of information, no one is going to be able to help. 75 year old Male currently signed up under plan F since 2010 with Mutual of Omaha. Paying $312 a month in premiums, raises every year on my birthday. Household discount is applied.
I'm using CSG Actuarial's quote tool, put in all the information above necessary and I am getting the below quote for the exact same plan I already have. Why am I paying nearly double the premiums? Can someone explain this to me? How can any quotes from any plans by any insurance company be trusted if they don't show what someone already enrolled in that exact plan is paying? Are these the newcomers prices? Do they jack all the premiums up after you enroll? Is this because I was stuck in this plan since 2010 and they changed something but it doesn't effect me because of whatever reason they want/can come up with? Please help me with any information you can, I would greatly appreciate it.
Feel free to run this quote for yourself.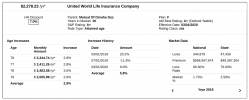 Edit: I forgot to include Illinois, 62702. Here is a screenshot from Illinois SHIP PDF (a year behind) as well as a screenshot from Mutual of Omaha's quote engine on their website below (matches CSG Actuarial).



Last edited: